Ola Electric IPO 2023 To Raise One Billion Dollar Appoints Bankers
Ola Electric IPO 2023
Ola Electric, the country's largest electric two-wheeler company, is preparing to enter the stock market. The company is planning to launch an OLA ELECTRIC IPO (initial public offering). Ola Electric can raise 800 to 1000 million dollars i.e. 6560 to 8200 crores from the market through IPO. The company may soon file a draft paper with the stock market regulator SEBI to bring the IPO.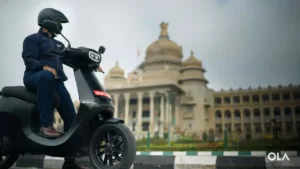 Ola Electric is planning to launch the IPO in the fourth quarter of the current financial year 2023-24. The company can get a valuation of $ 10 billion through IPO. The company gets this valuation which will make it the third most valuable two-wheeler company after Bajaj Auto and Eicher Motors. And through the amount received from the IPO, the company will fund the capital expenditure.
In Ola Electric's IPO, along with fresh shares, shares will also be sold through offer for sale. Through offer for sale, existing investors will reduce their stake in the company in the IPO. The company is considering selling a total of 10 per cent stake.
Ola Electric has hired Goldman Sachs, ICICI Securities, Axis Capital and Kotak Securities as lead managers to launch the Ola Electric IPO. Earlier in January 2022, the company raised $200 million from investors, after which the valuation of the company was estimated at $5 billion. Ola Electric has 28 per cent market share in the electric two-wheeler space. In the last three months, the company has sold 60,735 two-wheelers.
The company is planning to set up a 5 GW capacity lithium-ion cell manufacturing facility at Krishnagiri in Tamil Nadu. Later there is a plan to increase the capacity to 20 GW. Under the PLI scheme, the Government of India has allotted battery cell capacity to the company to make it an advance cell. The company has announced an investment of $500 million.
Read This Also:Gautam Adani Net Worth 23 May 2023 Massively Increased After Company All Stocks Up.
Read More: Ooty Travel Guides 2023