Business News Today 16/01/2023
Business News Today
Business News Today:*Mcap of 7 of top 10 most-valued firms jumps Rs 1 trn; TCS, Infosys sparkle*
The combined market valuation of seven of the top-10 most valued firms jumped Rs 1,07,224.82 crore last week, with IT majors Tata Consultancy Services (TCS) and Infosys emerging as the biggest gainers. Last week, the 30-share BSE Sensex climbed 360.81 points or 0.60 per cent. While TCS, HDFC Bank, Infosys, Hindustan Unilever, ICICI Bank, HDFC and Life Insurance Corporation of India (LIC) were the gainers, Reliance Industries Limited, State Bank of India and Bharti Airtel faced erosion from their market valuation. The valuation of TCS rallied Rs 59,349.81 crore to Rs 12,34,637.11 crore, the most among the top-10 firms. The market capitalisation (mcap) of Infosys jumped Rs 22,997.16 crore to Rs 6,32,684.95 crore.

*India's Russian oil imports cross 1 million barrels a day in December*
India's import of crude oil from Russia increased further in December 2022, topping 1 million barrels per day for the first time ever as Moscow remained its top oil supper for the third month in a row, according to data from energy cargo tracker Vortexa. Russia, which made up for just 0.2 per cent of all crude oil India imported in the year to March 31, 2022, supplied 1.19 million bpd in December. This was higher than 909,403 bpd crude oil India imported from Russia in November and 935,556 bpd in October 2022. The previous record for most crude oil imports from Russia was in June 2022 when India bought 942,694 bpd, according to Vortexa. Russia, which in October 2022 for the first time surpassed traditional sellers Iraq and Saudi Arabia to take the No.1 spot, now makes up for 25 per cent of all oil imported by India.

*India Inc business confidence hits a 2-year high in third quarter*
Industry leaders have expressed confidence in India's economy being resilient in the face of global headwinds in uncertainties, with the Confederation of Indian Industries' Business Confidence Index achieving its highest reading in two years for the October-December quarter. According to a statement by the industry body, "Reflecting the optimism around India being in a 'sweet spot' despite the rising global uncertainties, the latest CII Business Confidence Index rebounded to its highest reading in almost two years of 67.6 in the October-December quarter from 62.2 in the previous quarter. The sharp improvement in the value of the index was buttressed by subsiding concerns around the impending recession and its impact on the Indian economy," the statement said. Despite tightening financial conditions and geopolitical tensions globally, around 73 per cent of the survey respondents expected only a moderate impact of the global slowdown on the Indian economy, CII said.

*Commodity play*
Gold – Rs 56165/10gm, Silver – Rs 67835/kg, Brcrude – Rs 6374/barrel, Degumsyoil – Rs 1296/10kg, Copper – Rs 769/kg.

*Corporate News*
ReNew setting up solar cell units at Rs 2,000 cr investment in Raj, Guj.

Coal India should aim to provide electricity at just price: Chairman.

No word from RBI yet on regulatory leeway for HDFC twins' merger.

SGX Nifty indicates positive start to Indian markets trading at 18059 levels up by 0.12% or 21 points.

Sector in focus – IT, Metals, Real-Estate & Telecommunications.
Forthcoming Events
16th January: ANGELONE, BANARBEADS, GOTHIPL to consider Dividend; Vinny Overseas to consider Bonus issue & Stock Split; Aastamangalam Finance, Century Textiles & Industries, Globe Textiles (India), K&R Rail Engineering to consider Fund Raising

17th January: MASTEK, METROBRAND, NATIONALUM to consider Dividend; Dishman Carbogen Amcis to consider Fund Raising

18th January: CCL, PERSISTENT, SURYAROSNI, WENDT to consider Dividend; Vivanta Industries to consider Stock Split; Shukra Pharmaceuticals to consider Right Issue; Sejal Glass to consider Fund Raising; KDDL Limited to consider Buyback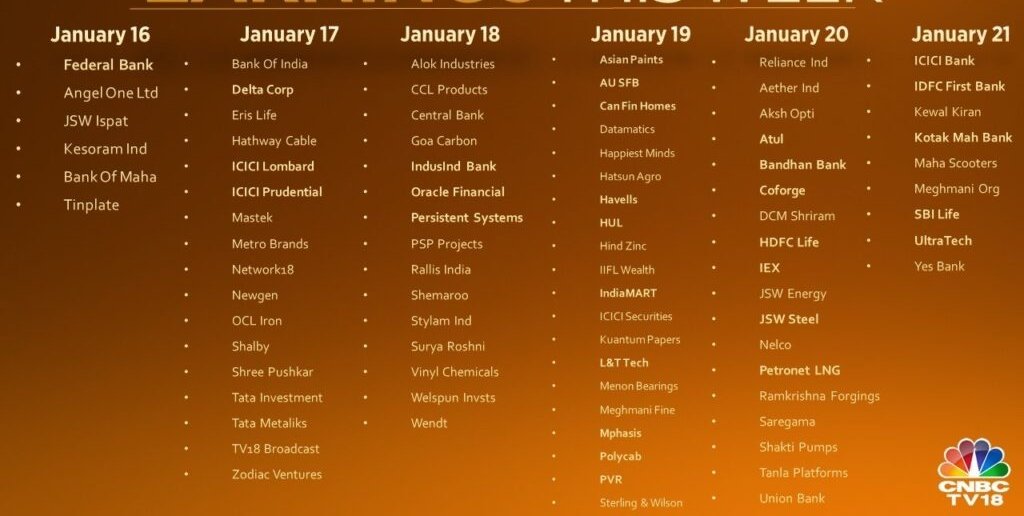 19th January: HAVELLS, MFL to consider Dividend; IIFL Wealth Management to consider Dividend, Bonus & Stock Split

20th January: COFORGE, DCMSHRIRAM, RKFORGE to consider Dividend; Veer Global Infraconstruction to consider Right Issue

21st January: CONTROLPR to consider Dividend; Apollo Micro Systems, Gujarat Toolroom to consider Stock Split; Websol Energy System to consider Fund Raising

23rd January: CONCOR, KEI, SHAREINDIA, ZENSARTECH to consider Dividend; VR Films & Studios to consider Bonus issue

24th January: ACCELYA, SONACOMS, VAIBHAVGBL to consider Dividend; Earum Pharmaceuticals to consider Right Issue; Vivanza Biosciences to consider Stock Split

25th January: SHANTIGEAR, TORNTPHARM to consider Dividend

27th January: Osia Hyper Retail to consider Stock Split; Captain Pipes to consider Bonus issue & Stock Split

28th January: BEL to consider Dividend; Hi-Tech Pipes to consider Stock Split

31st January: CHOLAFIN, PGHH to consider Dividend
Read this Also:-Union Budget 2023