Credit Suisse Bank Would Not Have Survived 1 More Day If Deal With UBS Delayed
Credit Suisse UBS Deal
The current Banking Crisis 2023, which started from America, has made one of the oldest banks in Europe, Credit Suisse, its victim. About a week ago, another major Swiss bank, UBS (UBS) agreed to buy it for $3.25 billion. Now a big statement has come from the Finance Minister of Switzerland regarding the deal.
Swiss Government was Forced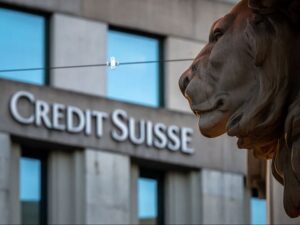 In a Bloomberg news, Switzerland's Finance Minister Karin Keller-Sutter has been quoted as saying that if the crisis-ridden Credit Suisse bank is not sold, it would not be able to survive in the market for a single day. This was the reason that the government of Switzerland itself had to intervene to get the deal of the sale of Credit Suisse. The Finance Minister said that his government was forced to intervene.
Could have been So Bad
Keller-Sutter recently gave an interview to a Swiss newspaper, in which he talked about the Credit Suisse crisis and the sale deal. Credit Suisse would not have seen next Monday if the deal had not happened, he said. Had a solution not been found, payments made through Credit Suisse in Switzerland would have either been severely disrupted or would have come to a complete halt.
Government of Many Countries Got Upset
Let us tell you that due to Credit Suisse getting caught in the banking crisis, not only Switzerland but governments from America to Britain had raised their ears. Everyone wanted to find a solution to the crisis as soon as possible so that the current banking crisis does not take a formidable form.
Credit Suise is the biggest name to fall prey to this banking crisis. Started 167 years ago, this bank was considered a very prestigious name in the world of banking.
UBS had initially offered only up to $ 01 billion for this deal, which Credit Suisse said was too low. Finally, by the evening of last Sunday, March 19, the deal was finalized and UBS increased the offer to $3.25 billion.
Banking Crisis is Not Over Yet
The current banking crisis that started in America is reminding analysts of the 2008 banking crisis. In America, Silicon Valley Bank, Signature Bank, First Republic Bank, Western Pacific Bank, etc. have become victims of the current crisis. Germany's largest bank Deutsche Bank is also in danger of collapse.
The Credit Suisse crisis may have been averted and bank regulators in many countries, including Switzerland, have heaved a sigh of relief, but the current banking crisis is far from over.
Read This Also:what is affiliate marketing | a free virtual event 2023 |