Morning Alerts Must be Read 19/01/2023
Morning Alerts
*Morning Alerts:Big Oil peddled the big lie, says UN chief Guterres at WEF 2023*
The world is in a "sorry state" because of myriad "interlinked" challenges including climate change and Ukraine war that are "piling up like cars in a chain reaction crash," the UN chief said at the World Economic Forum's meeting on Wednesday. "We learned last week that certain fossil fuel producers were fully aware in the 1970s that their core product was baking our planet," he said in his speech. "Some in Big Oil peddled the big lie." UN Secretary-General Antonio Guterres delivered his message on the second day of the elite gathering of world leaders and corporate executives in Davos. Guterres said the "gravest levels of geopolitical division and mistrust in generations" are undermining efforts to tackle global problems, which also include widening inequality, a cost-of-living crisis sparked by soaring inflation and an energy crunch, lingering effects of the Covid-19 pandemic, supply-chain disruptions and more.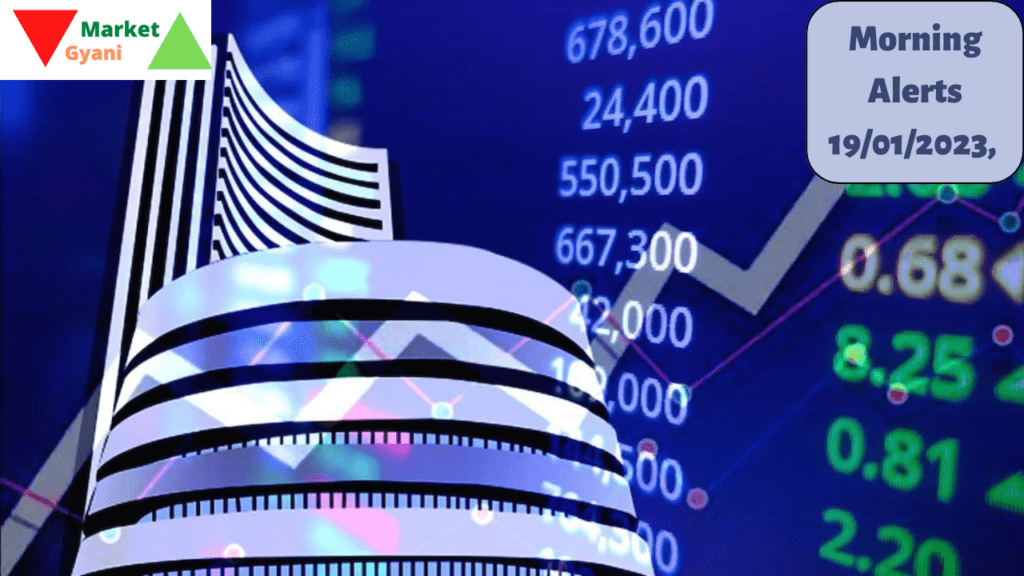 *Rupee surges as foreign banks make dollar sales, likely for FPI flow*
The rupee strengthened sharply against the US dollar in late trade on Wednesday, gaining 52 paise as some foreign banks sold the greenback, likely on account of overseas investment into domestic markets, traders said. The domestic currency closed at 81.25 per US dollar as against 81.77 at previous close, Bloomberg data showed. In 2023, the rupee has appreciated 1.8 per cent against the US dollar. The domestic currency was also boosted by a weaker US dollar index as investors anticipate a slowdown in the pace of the Federal Reserve's rate hikes, given data showing easing inflation in the world's largest economy.

*India better than many economies, needs work on labour mkts: Gita Gopinath*
IMF Deputy Managing Director Gita Gopinath has cautioned that India needs to work on labour markets and land, even as she hailed the country for doing better than many global economies. In an interview on the sidelines of the ongoing World Economic Forum (WEF) meeting at Davos on Wednesday, Gopinath cautioned against growing fragmentation globally, saying it hurt the global growth rate. The Covid-19 pandemic and the Russia-Ukraine war has made countries much more concerned about national security and economic security, which is causing them to undertake policies that could lead to greater fragmentation, she was quoted as saying in the interview. India though, she said, has been receiving lots of positive sentiments but at the same time added that greater reforms are needed for foreign direct investment in the manufacturing sector.

*Commodities play*
Gold – Rs 56471/10gm, Silver – Rs 68738/kg, Brcrude – Rs 6550/barrel, Degumsyoil – Rs 1296/10kg, Copper – Rs 785/kg.

*Corporate News*
Vedanta to acquire debt-laden Meenakshi Energy for Rs 1,440 crore.

IndusInd Bank's Q3 net profit increases 58% YoY on firm loan growth.

LTTS: Recent acquisition of SWC overhang dents investor sentiment.

SGX Nifty indicates negative start to Indian markets trading at 18130 levels down by 0.50% or 91.5 points. Dow Jones also ended yesterday`s session in red down by 1.81% at close.

Sector in focus – Banks ,Infrastructure, Metals & Power.
Stocks In Watchlists
Stock in Watchlists
Zydus lifesciences: The near term triggers for Zydus Lifesciences are the launch of the generic version of Trokendi in the US. The drug used in treating migraines has been launched by Zydus in three strengths with a market size of $175 million. Apart from the innovator, the drug is expected to have just a couple of players for a year and a half. Given that Teva is the only other player in the authorised generics space but has not been able to get US FDA go ahead, Zydus could be the sole player in the generics segment in the near term. Further, it has been expected that the price erosion risk could be minimal as the product will face limited competition for a period of time and estimate the generic version of the drug to add between $40-80 million to the company's US sales. Market share gains and traction for key products should boost its overall sales in the US market which accounts for 39% of its revenue. The company also launched the blockbuster cancer drug, Revlimid, in Q2FY23. Robust volume growth in recently-launched key products, as well as new products launched in Q3FY23, should lead to strong growth in the US market going ahead. The total market opportunity of these products on an annual basis is $2-2.5 billion. Further, the India business is a bright spot on the back of market share gains. Positive on Zydus Lifesciences given the traction for its key products in the US market, new limited-competition drug launches, regulatory clearance for the Moraiya facility and market share gains in the domestic market.
Bank of India: Bank of India reported strong 3QFY23 numbers with net profit increased by 12% YoY led by strong retail loan growth and higher margins along with an improvement in asset quality. Net Interest income grew by 64% to Rs 5,596 crore with net interest margin expanded to 3.28% from 2.27% a year earlier. Management expects bank to maintain NIMs in the 3.25%-3.50% range. The banks yield on advances improved to 7.67% from 7.02% in Q3FY22. Net profit during the quarter was impacted by lower non interest income by dropped by 22% YoY due to lower treasury income. Total provisions increased by 4.5x to Rs 1879 crore as the bank stepped up provisions on both standard as well as doubtful accounts during the past quarter. Positive on Bank of India given good set of 3QFY23 numbers and strong tailwind in banking space.
Read This Also:-Bulk Deals On NSE/BSE.