Mukesh Ambani World Top CEOs List Ranks 2nd
Reliance Chairman Mukesh Ambani World's Top CEOs List Rank 2nd : Big news related to Reliance Industries Chairman Mukesh Ambani is coming out. Mukesh Ambani has reached the second position in Brand Finance's list of world's top CEOs. According to media reports, Nvidia CEO Jensen Huang and Mukesh Ambani of Reliance Industries Limited have been ranked first in Brand Finance's Brand Guardianship Index-2023 respectively. And is in second place. Know what is special…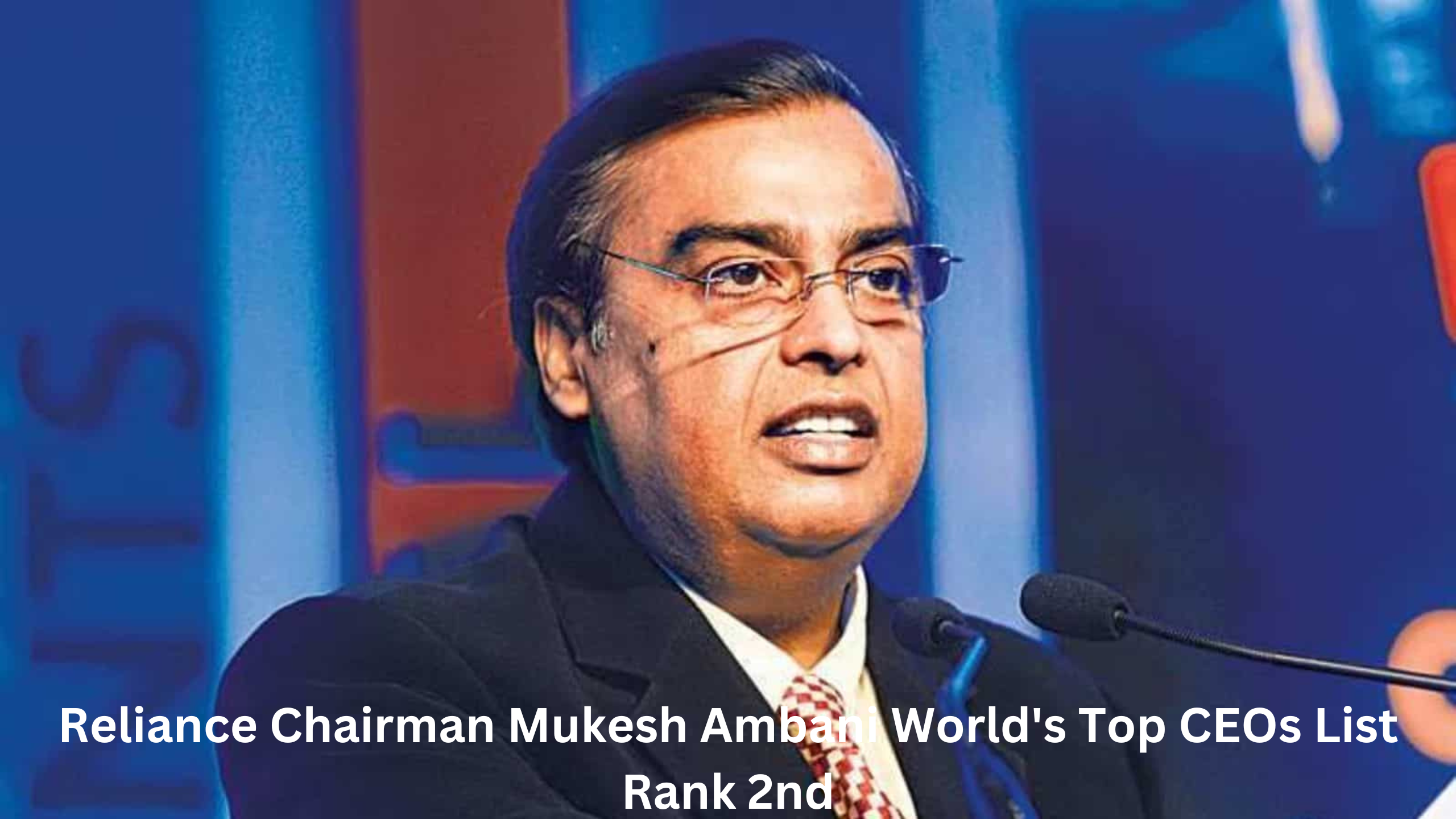 overtake them
Mukesh Ambani has now come second in the list of top CEOs of the world. He has got first ranking in India and second ranking in the world. Mukesh Ambani has defeated Microsoft CEO Satya Nadella, Google CEO Sundar Pichai.
Ambani got 81.7 marks
Mukesh Ambani has got 81.7 points in this list of Brand Guardianship Index. While American industrialist Jensen Huang, who is at number 1 position, has got 83 points. Mukesh is at number two by only 2 marks. This list is prepared by Index Brand Finance, which is recognized globally. For this, the efficiency of the CEOs of the companies, their role in the growth of the company, their role in furthering the share prices is assessed.
Top 8 CEOs Lists
Satya Nadella has been overtaken by both Huang and Ambani, who slipped to the third spot after ranking first in 2022. Adobe's Shantanu Narayen has been ranked fourth in the Brand Guardianship Index 2023, while Google CEO Sundar Pichai has been ranked 5th. Deloitte's CEO Punit Renjen was at the 6th position and Estee Lauder's Fabrizio Freda at the 7th position. Natarajan Chandrasekaran of Tata Sons has got the 8th place in the list of world's best CEOs.
6 Indian CEOs in top 100
Indian CEOs have done well. It has been said in this report that Mukesh Ambani and N Chandrasekaran have got a place in the top 10. In the same top 100, 6 Indian CEOs have reached. Furthermore, 6 of the top 10 from the rankings are of Indian origin, of which 4 are Indian-Americans (Satya Nadella is third, Shantanu Narayen is fourth, Sundar Pichai is fifth and Punit Renjen is sixth). This proves that the Brand Guardianship Index-2023 says that Indian-origin CEOs continue to have a huge influence globally.
Double good news for Ambani
There is also double good news for Mukesh Ambani, who is included in the list of Asia's second richest billionaires. On the one hand, his younger son Anand Ambani and Radhika Merchant have got engaged. On the other hand, in the Brand Guardianship Index 2023, the chairman of Reliance Industries has got the second ranking.
Mukesh Ambani's Salary
During the fiscal year ending 31 March 2012, he reportedly decided to forgo nearly ₹240 million from his annual pay as chief of Reliance Industries Ltd (RIL). He elected to do this even as RIL's total remuneration packages to its top management personnel increased during that fiscal year. Mukesh Ambani holds a 50.4% stake in the company.This move kept his salary capped at ₹150 million for the fourth year in a row.
Mukesh Ambani's Personal Life
He married Nita Ambani in 1985 and they have two sons, Akash and Anant, and a daughter, Isha, who is Akash's twin.They met after his father attended a dance performance which Nita took part in and thought of the idea of arranging a marriage between the two.
They live in Antilia, a private 27-storey building in Mumbai, which was valued at US$1 billion and was the most expensive private residence in the world at the time it was built.The building requires a staff of 600 for maintenance, and it includes three helipads, a 160-car garage, private movie theater, swimming pool, and fitness center.
Read This Also:Uttar Pradesh investment 41000/-crores