Stock Market Year Ender 2022 And Outlook 2023 According To Motilal Oswal Broking And Distribution MarketGyani.com
Stock Market Outlook 2023: India left behind global markets in 2022. Its flexibility was its biggest reason. For example, it has withstood adverse global conditions such as high inflation, rising interest rates, high currency fluctuations, geo-political instability and heavy selling by FIIs. This flexibility of the Indian market got many structural supports, which made India a bright future market on the world map.
You can see that despite the huge volatility, this year (till December 12) the Nifty has gained almost 7 percent. In contrast, most of the global indices have declined by 10-20 per cent. In fact in November 2022 it saw a fresh life high of 18,888. The Nifty Midcap index also gained 7 per cent so far this year. However, the Nifty Smallcap index registered a decline of about 11 per cent during this period. The performance of public sector (PSU) banks was the best. So far this year, their shares have gained 72 per cent.
Indian market performed better due to these reasons-
1. Sharp increase in capital expenditure by the Central Government, due to which the Indian economy was able to overcome the challenges of the Covid epidemic.
2. Strong consumer demand, which is reflected in the excellent figures of the domestic economy. Staying above Rs 1.4 lakh crore for the eighth consecutive month and e-way bill generation staying above 7 crore since March 2022 is its hallmark.
Due to these two reasons, the Indian corporate showed a strong CAGR growth of 24 percent between the financial year 2020-22. Other factors like GDP and PMI (Purchasing Manager Index) also made a strong comeback after the pandemic and have maintained their strength since then. The manner in which credit growth is increasing in the country also indicates this strength. For the past few months, credit growth reached a decade high of 15 per cent.
This year many sectors have shown cyclical upturn i.e. they have recovered from normal ups and downs in a certain period. These include real estate, automobile, banking and telecom. Meanwhile, due to industry consolidation, production capacity utilization reached 75 per cent of the long-term average. This is likely to encourage private investment. Amidst all this, due to China+1 and Europe+1, the scope for outsourcing has increased. Apart from this, due to government initiatives like self-reliant India and Make in India, the contribution of manufacturing in GDP is likely to increase, which is currently 15 percent.
Not only this, now relief has also started coming from inflation, which had remained the biggest cause of concern for a few months. It came down to 11 months low of 5.88 per cent in November-22. This rate of retail inflation is less than the target of 2-6 percent of the Reserve Bank. However, in the new year and beyond, the central government will work towards increasing capital expenditure. There is also a possibility that private investment will increase. In such a situation, Nifty earning is expected to remain excellent. There is a possibility of a strong CAGR growth of 17 percent between the financial years 2022-24.
Overall, where the rest of the world is facing many challenges, India stands like an oasis in the desert. Meanwhile, domestic investment has also remained strong and FIIs have now become buyers from sellers. Nifty is now trading at 20x 1 year forward P/E. In our opinion this is correct.
Now we are entering the calendar year 2023. During this period, the stock market may remain volatile due to global reasons such as fears of recession, geopolitical risks and increasing cases of Covid in China. In 2023, along with the RBI, the policy of the US Fed will also play an important role in deciding the course of the market. Any relaxation in policy rates will give momentum to the market. In the calendar year 2023, we expect two themes – credit growth and capex. Hence BFSI, Capital Goods, Infrastructure, Cement, Housing, Defense and Railways can remain in focus.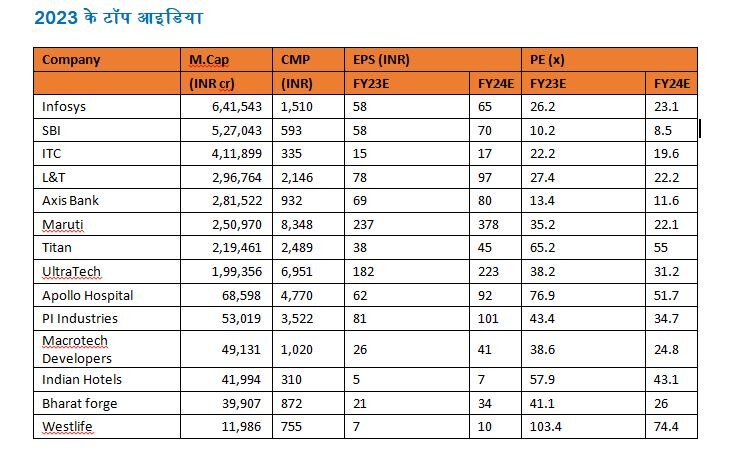 Disclaimer: (This article is written by Motilal Oswal Broking & Distribution. The information provided here is for informational purposes only. It is important to mention here that investing in the market is subject to market risks. Before investing as an investor Always take expert advice. It is never advised by Marketgyani.com to invest any money here.)